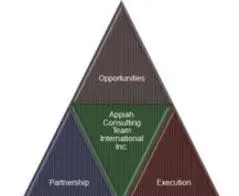 Connecting Businesses
Globally for Greater Benefits
Appiah Consulting Team International (ACT International) is a privately-owned company. The company was incorporated under the laws of the United States of America in 2007. Please get in touch to learn more about Appiah Consulting's company profile.
Vision – Empowering Africa
The company's vision is to connect businesses globally. The goal is to build connections and collaboration between businesses to businesses and businesses to governments.
The vision is to provide opportunities to improve living conditions in emerging markets, such as Africa, and to call on all to empower the African continent with self-reliance through education and the effective use of natural resources.
Bridging the Gap Between Businesses
Today's globalization of businesses makes Appiah Consulting Team International uniquely positioned to strategically bridge businesses globally through the following:
Improving Performance & Productivity
Appiah helps organizations assess how to maximize their productivity and works with them to achieve their vision. We connect with partners to develop and implement technology in order to improve our clients' productivity and efficiency. Our passion, at the end of the day, is to enable our clients to become high-performance participants in the global economy. Our key differentiators in the marketplace include: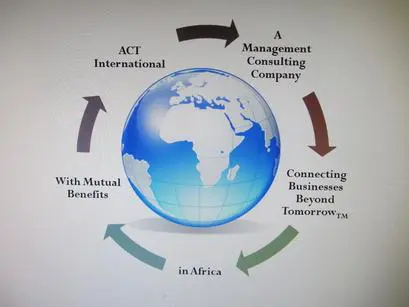 We trace our beginnings to the year 2000, when our founder, Mr. Thomas Appiah, was living as an ex-pat in Tokyo, Japan. During that time, he lived in proximity to many of the embassies and was sought out by both ambassadors and business owners because of his expertise.
These consultations resulted in decisions that led several African countries to adopt more appropriate telecommunication technologies to better serve their populations.
As a result of these experiences, Mr. Appiah developed a strong interest in helping the African continent receive both the most appropriate technologies and humanitarian support. While in Japan, Mr. Appiah organized, collected, and sent relief aid to Mozambique during an environmental disaster in the year 2000. This was a joint project that he conducted with the South African Embassy of Japan.
Mr. Appiah's passion for serving others has led him to form this firm that connects businesses to businesses, businesses to governments, and governments and governments for mutual and lasting benefit. He is the co-founder and Chairman of the Board of African Chamber of Commerce of Utah, with strong collaboration with the Governor's Office of Economic Development and the World Trade Center of the State of Utah.
Mr. Appiah – Educational Background
Mr. Appiah studied in the United States of America and earned a Masters in Business Administration (MBA), Masters in Engineering Management (MEM), and Bachelor of Science Electrical Engineering (BSEE). He was a visiting lecturer at Brigham Young University teaching International Negotiation Strategies.
Market Segment Opportunity
ACT International focuses on three target segments:
ACT International Inc.'s marketing strategy involves maintaining and expanding broad-based networking with clients in target segments, establishing alliances with service companies to deliver solutions, and partnering with emerging markets or businesses to provide attractive investment returns.
Bringing Businesses & Governments Together
ACT International Solution ACT International has a well-developed mix of contacts and leaders in the three-segment areas noted above. These services are designed to afford governments and businesses much-needed funds and information, allowing for effective delivery of high performance and growth opportunities. Included in ACT International's innovative service offerings are the abilities to:
Internationally-Experienced Management Team
The management team has nearly 60 years of combined experience in management consulting, product management, program management, marketing, sales, vendor management, trade shows, systems engineering in the multi-billion-dollar telecommunications industry in the Chicago area and Tokyo Japan, as well as, building and selling companies, and consulting with the major financial powerhouses in the New York City area, Salt Lake City, and Austin Texas.
The combined team has worked extensively in Europe, Asia, Africa, and the United States of America, with a broad sense of positioning products for sustainable growth and a sound business model coupled with strong leadership.
Motorola is a multi-billion dollar telecommunication global company with year after year multi-billion dollar sales. Motorola is known around the world, as an innovator and leader in wireless communications delivering new and stylish products.
Motorola has four main lines of business:
Recently, Motorola divided into three entities and sold the Mobile Device business to Google, the Home & Networks to Nokia Siemens Network. Enterprise Mobility and Government & Public Safety are now known as Motorola Solutions.
Sterling Energy & Trading Co. Inc
Mr. Robert M. Murphy is the President and Chairman of the Board and sole shareholder of Sterling Energy & Trading Co. Inc. He is the former Vice ­Chairman of the Board of Directors of the New York Stock Exchange ("NYSE"), serving under Richard Grasso. Over the course of his career, he was noted for his pursuit of efficient markets and responsible corporate practices.
Mr. Murphy began his career in finance on the trading floor of the NYSE in 1976 and became a member of the NYSE as a specialist partner of M. J. Meehan & Co. in 1982. Subsequently, he was an integral part of NYSE policy, governance, and operations. He was also liaison to the Institutional Traders Advisory Committee, Governor of the Stock Exchange, and a floor official before becoming the Vice-Chairman from 1998 to 2003.
In addition to his service at the NYSE, Mr. Murphy served as a Chief Operating Officer of LaBranche & Co. Inc., the largest specialist trading firm on the floor of NYSE. Mr. Murphy has extensive international experience in equities, debt, and commodities markets.
Green Renewable Technology Inc.
GRT is a US-based provider of energy solutions. Their goal is to supply their clients with superior, well-engineered, cost-effective, advanced renewable energy solutions designed to deal with the critical issues faced by public and private entities. GRT works with multiple technology companies to provide the most efficient technology for each project. Because GRT is not a manufacturer, they do not attempt to fit the project to the technology.
Instead, they will select the correct mix of technologies to provide the minimum carbon footprint while maximizing the environmental and economic benefits. Mr. Murphy, formerly Vice Chairman of the NYSE, is a few of the talents with GRT. GRT is making progress on new projects in Africa and the Middle East.
Ernst & Young (trading as EY)
Ernst & Young (trading as EY) is a multinational professional services firm headquartered in London, United Kingdom. It was the third-largest professional services firm in the world by aggregated revenue in 2012 and is one of the "Big Four" accounting firms. The organization operates as a network of member firms that are separate legal entities in individual countries.
It has 167,000 employees and more than 700 offices in more than 140 countries. It provides assurance (including financial audit), tax, consulting, and advisory services to companies. For more than 28 years, Dell has empowered countries, communities, customers, and people everywhere to use technology to realize their dreams.
Customers trust us to deliver technology solutions that help them do and achieve more, whether they're at home, work, school, or anywhere in their world. Learn more about our story, purpose, and people behind our customer-centric approach.
Sorenson Genomics, LLC is an independent, nationally and internationally accredited Human Genomics DNA Testing Laboratory. A world leader in human genomics and DNA testing services, it extends its high-quality, high-throughput DNA extraction and DNA genotyping services to a global market. The differentiated products and services produced by the Genomics Research and Development Team provide a portfolio of solutions serving thousands of customers across a global landscape.
In 2001, Sorenson Genomics built a state-of-the-art, high-throughput DNA extraction, DNA sequencing, and DNA genotyping facility in Salt Lake City, Utah. A vision of founder, James Levoy Sorenson, biotech entrepreneur and businessman, Sorenson Genomics has been a pioneer in the biotech industry spearheading development and influencing accreditation standards for human genomics and DNA testing services.
Utah: The Governor's Office of Economic Development
The Governor's Office of Economic Development charter is based on Governor Herbert's commitment to economic development statewide. The mandate for this office is to provide rich business resources for the creation, growth, and recruitment of companies to Utah and to increase tourism and film production in the state. The Governor's Office of Economic Development accomplishes this mission through the administration of programs that are based around industries or "economic clusters" that demonstrate the best potential for development.
The Governor's Office of Economic Development utilizes state resources and private sector contracts to fulfill its mission. The mission of the Governor's Office of Economic Development is to nurture an environment where Utah companies can be successful and the business community can create jobs that raise Utah's citizen's standard of living.
World Trade Center Utah (WTC UTAH)
World Trade Center Utah (WTC Utah) is a licensed and certified member of the World Trade Centers Association, headquartered in New York City. The mission of WTC Utah is to guide Utah companies into profitable global markets.
WTC Utah builds Utah's international community by offering signature services: Assessment of a company's current global position or international strategy, Education in the form of seminars and workshops to help develop a global strategy, and Connections through the World Trade Center network and co-hosted local events to help in executing global strategy.
In addition, WTC Utah offers customized market intelligence reports and access to the network of over 330 World Trade Centers around the globe that facilitates international trade and investment.